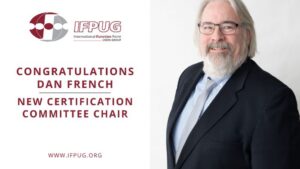 IFPUG is happy to announce that Daniel French has been named as the new Chair for the Certification Committee. He has assumed the role from Cinzia Ferrero.
Daniel French, CFPS, CSM, PMP is a Principal Consultant at Cobec Consulting with 20+ years' experience in many IT roles. Daniel has significant industry knowledge, experience and certifications.
Daniel most recently served as the Certification Director and Secretary for the IFPUG Board of Directors. Previously, Daniel served as the Chair of Functional Sizing Standards Committee and its predecessor New Environments Committee as vice-chair as well as the Conference Committee.
Daniel has authored/co-authored numerous white papers and iTips and presented at IFPUG and International Cost Estimating and Analysis Association (ICEAA) Conferences.
He was instrumental in establishing the Memorandum of Agreement (MOA) between IFPUG and ICEAA. He is also one of the IFPUG representatives developing the Software Costs Estimating Book of Knowledge and worked on the team updating the CEBoK.
Daniel's experience demonstrates the breadth and depth of his knowledge about IFPUG and as a Committee Chair will advocate for the IFPUG Methodology and build greater value for members while expanding partnerships with other industry organizations.