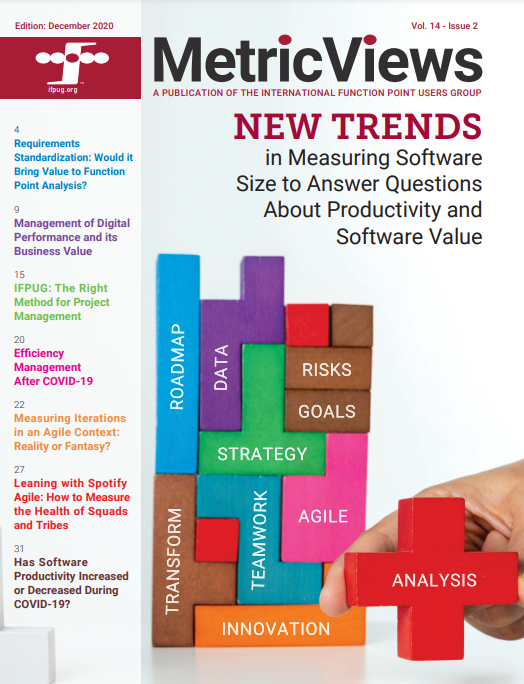 IFPUG announces that the second semester edition of MetricViews is now available. In this edition you can read the vision of worldwide metric authors. Some of the articles are related to inspiring experiences, such is the case of how the IT department of the SNCF group has developed a new valuation method based on the IFPUG Function Points, or the testimonial of the different uses of the IFPUG method to manage projects in SDM Conseil.
Other articles are related with Agile, such as the art of measuring iterations and measuring the health of squads and tribes; others linked with COVID-19, such as to determine with metrics if the software productivity has increased or decreased during COVID-19; how to manage projects with efficiency during this pandemic period or the importance of the value that IFPUG brings in the requirements phase. IFPUG answers in numbers the productivity and the value that the software provides; those answers cannot be possible without measuring the software size.
Thanks to the authors, experts in the metrics areas: Sushmitha Anantha, Emmanuel Berthomé, Jean-Pierre Scappaticci, Jérémy Torrent-Bassin, Patrick Viscaino, Noémie Andre, Carlos Eduardo Vazquez, Fabrizio Di Cola, Nicolantonio Auciello, Domenico Geluardi, Daniele Zottarel, Paramita Dutta Mandal, Sanoop Manjoor, and Antonio Ferre, and thanks to the MetricViews editorial board comprised by first worldwide recognized experts in metrics and project management: Diana Baklizky (Brazil), Tom Cagley (United States), Carol Dekkers (United States), Antonio Ferre Albero (Spain), Roberto Meli (Italy), Joe Schofield (United States), Peter Thomas (United States), and Steven Woodward (Canada).
You can read or download this MetricViews edition from here, or the previous editions from the IFPUG MetricViews section.
Take care of yourself and your families, and enjoy of this new edition of MetricViews, the window to the world of metrics.