IFPUG announces the launch of their CFPS exam in Spanish in addition to the already available exam language options (English, Italian and Brazilian Portuguese).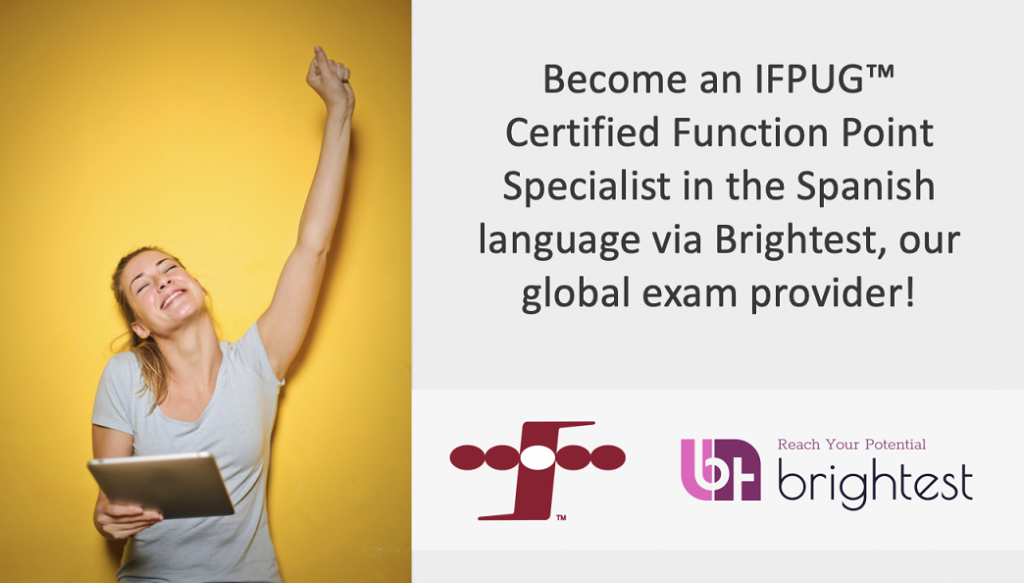 The registration and exams are already available on the Brightest platform. After creating your Brightest account in Pearson VUE, you will be able to register for your exam via the platform at any of the 5200 Pearson VUE Test Centers (Brightest Center Exams) or take the exam via the OnVUE software in your own home (supervised webcam – Brightest Private Exams).
In addition to the calculator and digital scratchpad provided in the system, the Counting Practices Manual and Quick Reference Guide have also been built into the exam platform and are easily searchable throughout the entire exam. Successful candidates will receive a PDF Certificate within 48 hours of taking their exam. They will also receive a digital badge via Acclaim/Credly Badging Services, which can be shared on your social media channels. If you have a group of 6 or more people, you can also contact Brightest directly for more information about their Brightest Green Exams (electronic group exams utilizing the Pearson Vue technology).
Please note that if you are taking the exam in your own home (Brightest Private Exam), a set of requirements need to be meet (more info here).
For more information contact [email protected], www.brightest.org or [email protected].