IFPUG announces the constitution of the Board of Directors for 2019-2020. The IFPUG President during the period of 1st of November 2019 to 31st of October 2021 will be Christine Green.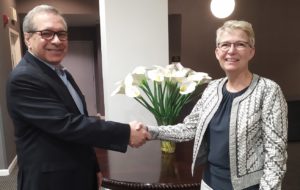 IFPUG thanks Mauricio Aguiar for his leadership during his Presidency from 1st of November 2017 to 31st of October 2019. During his term as President a lot of influencing successes were accomplished such as:
SNAP IEEE worldwide standard: IEEE 2430-2019.
IFPUG representative as the ISBSG President.
Simple Function Points under IFPUG banner.
Brightest, new exam provider, with 3 options (Private, Site or Group).
IFPUG Presence at ICEAA Events (US and Europe) and OMG event (US) in addition to conferences in India, Italy, China, Mexico & Brazil and many more…
3 Modules for ICEAA sCEBoK developed by IFPUG.
Mauricio Aguiar will continue as a valuable advisor in the position of Past President for the next 2 years. In words of Mauricio, "I'm looking forward to working with Christine Green for the duration of my term as IFPUG Past President. I have followed Christine's work for many years so I am certain she will be one of the best IFPUG presidents ever. I hope I will be able to provide Christine with good advice and assistance as IFPUG creates its future."
IFPUGs Vice President for the next two years will be Charles (Chuck) Wesolowski. He is excited by the opportunity to bring over 35 years of experience in Software Engineering to our organization and he is committed to supporting the leadership and growing the membership of IFPUG, in order to fulfil our mission of being the premier association of software measurement professionals.
The IFPUG board has been constituted for the period of 1st of November 2019 to 31st of October 2020 as follows:
Christine Green (President) Denmark.
Charles Wesolowski (Vice President) United States.
Mauricio Aguiar (Immediate Past President) Brazil.
Dácil Castelo (Director of International & Organizational Affairs) Spain.
Diana Baklizky (Director of Communication & Marketing) Brazil.
Filippo De Carli (Director of Strategic Partnerships & Events) Italy.
Kriste Lawrence (Treasurer) United States.
Luigi Buglione (Director of Sizing Standards) Italy.
Roopali Thapar (Secretary & Director of Certification) India.