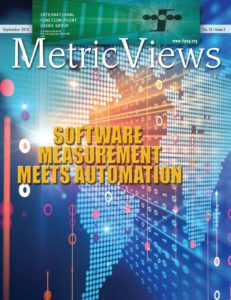 Now available, the latest edition of MetricViews. Read how organizations are using automated tools and techniques to improve the accuracy and efficiency of the measurement programs.
Is automated function point sizing becoming a reality? How do you know if you are ready for a measurement tool? Find the answers to these questions and much, much more in this interesting and insightful edition of MetricViews
Do not miss the IFPUG's position on automated tools by Chuck Wesolowski, and Carol Dekkers, and the articles "Function Point Automation: Human Always Matter?" by Eduardo Orefice and Sara Terrani, "Human Centric Automation" by By Sujatha Sivaraman, "Measurement Automation Using M.A.R.IN.E" by Kevin McKeel, "Automation Tools for Real-Time Embedded Software Functional Size Measurement" by Hassan Soubra, "Think you're Ready for a Measurement Tool? Top 10 Questions to Ask Before Going Shopping" by Carol Dekkers, "Simulation Models Based on ISBSG Benchmark Data" by Milan Rao, and "Automation and Too Many Metrics Sharing the Word 'Points'", by Antonio Ferre Albero.
If you have been wondering how you can get more involved in IFPUG, be sure to read about all the work being done by the IFPUG committees, by the hand of the different committee chairs: Sheila Dennis, Antonio Ferre Albero, Filippo De Carli, Dan French, Saurabh Saxena, Steven Woodward, Talmon Ben-Cnaan.
Do not miss the Message from the IFPUG President, Mauricio Aguiar, the Editor's Desk section by David Herron, the editor of MetricViews, and other interesting articles and information about IFPUG.
You can pick up your copy of MetricViews from here, or the previous MetricViews editions from here.