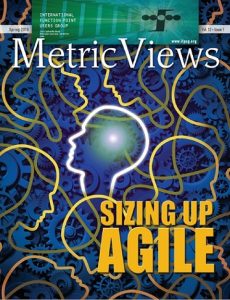 Agile is our main topic of this new edition of IFPUG MetricViews, available to download in PDF format. This edition 'Sizing up Agile' includes articles on the use of functional sizing and other metrics in an agile development environment. The first thing you may notice is our new format. MetricViews has been redesigned for a more modern and professional look and feel.
In this edition, you will read about how teams are measuring and estimating agile projects. Authors Ian Brown and Joe Schofield share with us some unique and innovative approaches for using functional measurements on agile projects. And you don't want to miss the article by Antonio Ferre Albero on how agile and functional size combine to provide greater strategic value.
Other articles covering important function point topics include insights on how to improve your counting performance by Sheila Dennis, a discussion on the relevance of function points by David Herron, using function points with todays new technologies by Steve Woodward, and Carol Dekkers looks at how to be more open to Function Points and measurement in the article on 'If I was Queen of the Measurement World'.
A special feature in this edition of IFPUG MetricViews is a congratulatory article on IFPUGs first two Honorary Fellows, David Garmus and Jim McCauley. Thank you gentlemen for your time and dedication.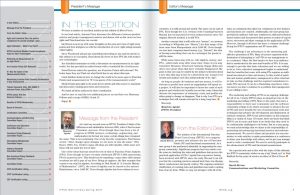 If you've been wondering how you can get more involved in IFPUG, be sure to read about all the wonderful work being done by the IFPUG committees. You too can be a contributor while meeting and working with some wonderful people!
You can pick up your copy of MetricViews from here, or the previous MetricViews editions from here.