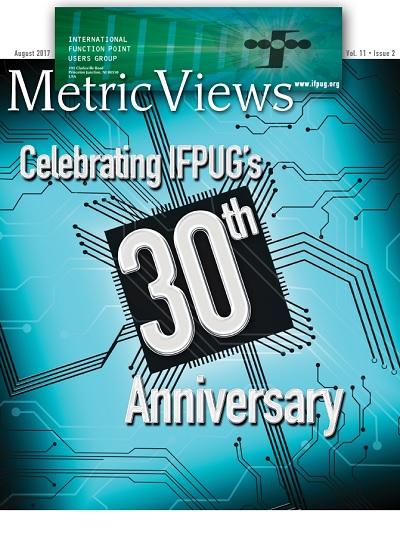 This special edition of MetricViews represents a celebration of IFPUG 30th Anniversary, and the International Year of Software Measurement.
In this edition, available to download from the IFPUG site, you will find articles by a selection of international authors along with an in-depth interview with industry notable, world measurement guru, well-known author and international public speaker, Capers Jones.
IFPUG takes pride in being at the forefront of functional measurement for the past 30 years. We have included insightful and informative articles from Brazil and Italy: Mauricio Aguiar discusses the business drivers that have made Brazil the number one function point user in the world and Roberto Meli advances the idea that the time is right for functional metrics to evolve towards simplification and agility.
In this edition we have included reflections from past IFPUG presidents; these men and women have given their time and talents to keep this vibrant users group relevant in today's software industry.
You will find too, among others, the strategic vision "Thirty Years of IFPUG" (thirty years is a long time in IT), or the "Remembering Allan Albrecht" article, charming and familiar words dedicated to the father and inventor of Function Points, Allan Albrecht.
Take a walk down memory lane as you sequence through the timeline and peruse the gallery of photos from past IFPUG gatherings. This is one of a kind collector's edition! Enjoy