ISMA 15, the next GUFPI/IFPUG collaborative International Software Measurement & Analysis Conference, will be held in Rome, the Eternal City (La Città Eterna, symbolizing so much history leading up to our modern days), on May 9-11, 2018. There will be a one day main conference (May 11), preceded by two days of workshops (May 9-10), and CFPS and CSP onsite exams. In addition, there will also be networking opportunities to meet international measurement experts.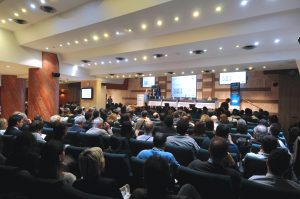 The previous GUFPI/ISMA conference was held in Rome (ISMA 12) in May 2016 where more than 320 metrics experts from 16 countries attended, a testament that Italy is a mature and very active country regarding IT metrics and functional size metrics. In addition, GUFPI-ISMA (Gruppo Utenti Function Point Italia Italian Software Metrics Association) members and the setting in Rome, Italy makes the attendees feel at home.
Preliminary ISMA 15 information is already available on http://www.ifpug.org/isma15.
ISMA 15 Call for Presentations
The ISMA15 Conference will provide a forum to discuss most recent advances in planning and sustaining measurement programs. We invite professionals responsible for, involved in, or interested in software measurement to share innovative ideas, experiences, and concerns within this scope. The session topics include but are not limited to:
Better Estimates using FPA.
Innovative / challenges with Pricing and contracting approaches for various contracts.
Measurement frameworks for better value-based management.
Approaches for monitoring and controlling scope, budget and risk on software projects/programs.
Value based software measurement.
Strengthening software measurements with SNAP and FPA.
Experiences of using process and product measurement in new application domains.
Measurement success stories.
Challenges/successes using other software metrics.
For submissions, an abstract not longer than 2 pages must be submitted to [email protected], describing your proposal. Final presentations must not be longer than 25 slides, including no commercials (maximum a single slide presenting your own organization), and conference language is English.
Presentation abstracts must be submitted by December 29, 2017; notification of acceptance/rejection: January 15, 2018, and final presentation/paper version will be due: March 23, 2018.
For a complete information, templates to download (abstract, presentation, and style guide), visit http://www.ifpug.org/isma15/call-for-presentations