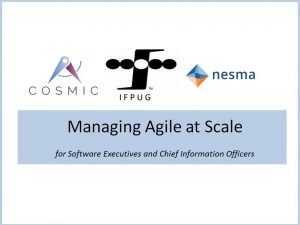 IFPUG, COSMIC, and Nesma, as the providers of three leading worldwide ISO-standard software size measurement methods, have released the paper "Managing Agile at Scale: A briefing for Software Executives and Chief Information Officers".
Agile methods have undoubtedly brought major benefits to business of faster delivery of software that better meets evolving customer needs. However, the freedom given by Agile processes to individual teams to manage their own affairs has made it more difficult for senior management to set budgets and allocate resources optimally, and to track progress against budgets. Individual teams can use Story Points to estimate and control their own activities but senior managers need a standard measure of software size to support and control activities across multiple Agile teams – 'Agile at Scale'.
This paper briefly explains how to support and control Agile at Scale, while continuing to benefit from Agile speed and flexibility of delivery. It can be downloaded in English or in Brazilian Portuguese.