This edition of MetricViews centers around one common theme: estimation.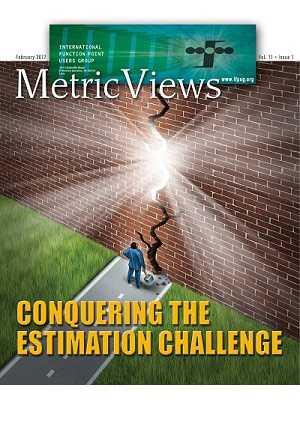 In this edition, available to download from the IFPUG site, Carol Dekkers and Joe Madden start us off with ways to improve your estimates based on a FP sampling approach, Amit Arun Javadekar reminds us of the impact accurate estimating has on winning new business deals, and Dan Horvath provides his insights and experience on how to establish a consistent and effective estimating process. In their article on "Why Can't we Estimate Better" David Herron and Sheila Dennis discuss some common pitfalls along with some practical approaches, Frank Vogelezang reminds us that making the right decisions depends on having the right measures, and Marcus Mello keeps us on our toes by giving us some homework to consider. Also included are the up to date committee reports, the "Names and Faces" of the HQ IFPUG team, and the message from our President Tom Cagley.
Mention special in this MetricViews issue is the remembering to our friend and colleague David Thompson (1940-2016). We have re-printed the lovely tribute to our dear friend David.
Want to comment on an article in this edition?  You can do that in the LinkedIn IFPUG official group.